Substitute Familiar #1.5
Regular price
Sale price
$15.00 USD
Unit price
per
Sale
Sold out
The first semi-sequel to Substitute Familiar is here!
Visiting your sister's new store right before going off on a journey promises to change your life. Did I mention your sister's a witch?
The council of witches doesn't often get involved... but considering what a certain alchemist has done, it might be time for magical justice to be administered
...and 23 other stories about witches, familiars, and everyone in-between!
This book is a collection of short stories that act as a sequel-prequel-companion to the Substitute Familiar light novel series. Specifically, the first book! You don't need to have read it to enjoy A Drink To Amanda, Penelope And The Council, or the 23 other stories in this light novel, but it'll make the experience much better (and save you from a bunch of spoilers).
Shipping & Returns

All orders are fulfilled via USPS media mail or priority.

Shipping for pre-orders is charged in addition to shipping on non-pre-order items.

Pre-ordered items may be held in order to ship with other pre-ordered items included in your purchase.

No returns are accepted at this time.
Share
View full details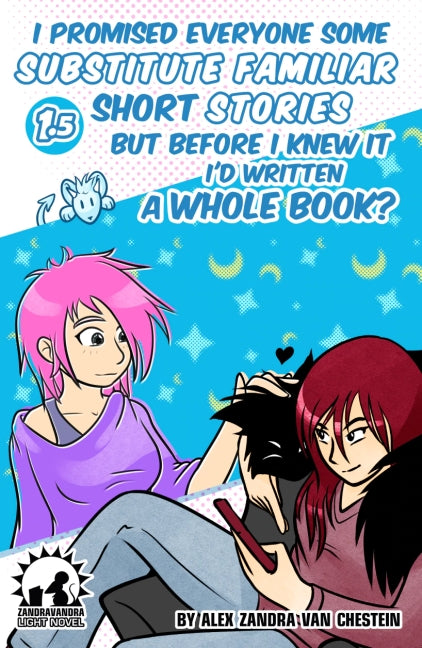 About the Author
Game designer, writer & more; host of @gushcast; @ChariotGame; Giant ROM game jam; transgenderrific; enthusiastically gay; she/her; hey hi you're awesome!